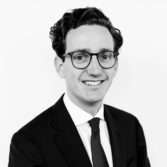 Guy de Wijkerslooth
Attorney
Key areas of focus
I joined BvdV's bankruptcy and contract law litigation practice in 2013. My focus is on real estate (tenancy law) in particular. I advise clients in the field of real estate (sales and letting/renting), commercial contracts and procedural law.
When advising clients, I try to offer solutions and in business disputes, I aim to achieve solutions in the interests of the client. If a case requires the step or if an amicable solution is no longer an option, I will litigate on behalf of clients and if necessary in combination with seizure measures. I get a great deal of satisfaction from working with clients to realise to most effective (litigation) strategy.
Education & background
I successfully completed both my Bachelor's Law degree and Master's degree in Private Law at Utrecht University. After I graduated, I gained administrative and communication skills as the Chair of a law association and later as a member of the Supervisory Board. Following various internships at several law firms, I joined BvdV in 2014 as a commercial (trial) attorney.
Additional positions and associations
Editorial team Bar Association Bulletin Midden-Nederland
Member of the Young Bar of Midden-Nederland
Member of the Supervisory Board of Stichting JSVU Beheer