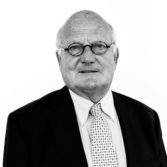 Key areas of focus
My practice is primarily focused on companies and entrepreneurs, but also deals with consultancy in the area of estate planning and property transfer. My background at the Tax Inspectorate means I regularly get called in to resolve conflicts with the tax authorities. From 1980 onward, I started work as a tax adviser, initially spending a number of years at Wisselink & Co. and subsequently as a senior partner at Coopers & Lybrand (currently PwC), followed 14 years as a partner at the partnership practice Van Mens & Wisselink Advocaten en Belastingadviseurs. I have been with BvdV since 2009.
I get great satisfaction from my work by resolving the problems of others. It's something that drives me in my work, something that gives me vitality, and fuels my inventive nature. I take my profession very seriously and feel responsible for my clients, regardless of whether the stakes be large of small.
I'm glad to go to work every day, usually by bicycle. Most days, I cycle from Zeist through the Rhijnauwen nature reserve – it's something that adds an extra dimension to the rest of the working day.
Specialist areas
I specialise in the areas of direct taxes (corporate, income, and payroll tax) as well as real estate transfer tax and inheritance tax. I have a great deal of experience in the field of mergers, takeovers, the restructuring of companies, business succession. In addition, I supervised the initial public offering of a number of companies.
Education & specialist associations
After secondary school in Zutphen, I initially went on to attend the Hogere Textielschool (College of Textiles) in Enschede. I subsequently studied Tax law at Leiden University, taking my degree in October 1971.