WW en het vergeten tussentijds opzegbeding: oplossing in zicht?
25 - 08 - 2021 • Daniël Maats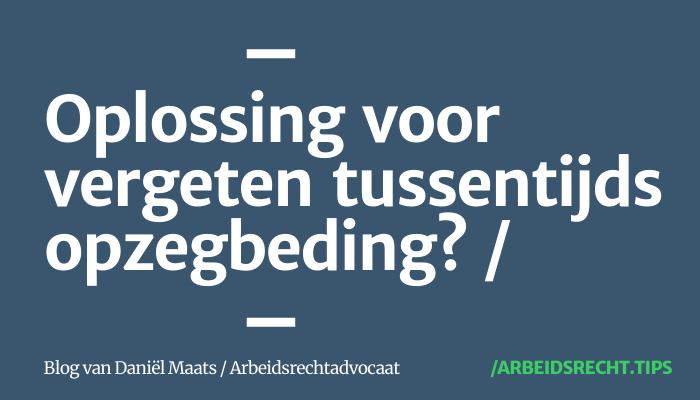 Arbeidsrecht
As an employer, you have made the decision to stop working with that one employee. You've been eyeing it for a while, but there isn't a good match. But, the employee is employed on the basis of a fixed-term employment contract and there is no interim termination clause, can you split up? There now seems to be a solution for this, so that the employee can still receive unemployment benefits afterwards. In this article I explain how that is possible. But, it remains risky.
Interim termination clause
The law has extensive regulations when it comes to termination of the employment contract, for example with regard to terms and conditions. Of course, an employer must have a reasonable ground for termination of the employment contract, if it ultimately comes down to it. Usually the parties first talk to each other and often it is possible to reach agreements among themselves. The employment contract is then terminated by mutual consent and those agreements are laid down in a termination agreement, also known as a settlement agreement. The employment contract is then not formally terminated. Do you have to take a notice period into account? No, this is not an obligation, but the UWV does take this into account when determining the commencement date of the unemployment benefit, if the employee applies for it.
A special arrangement applies to fixed-term employment contracts. According to the law , a fixed-term employment contract can only be terminated prematurely if this has been agreed in writing. This means that both parties cannot separate earlier without the consent of the other.
In this ARTICLE you can read everything about the settlement agreement and what you should take into account.
When is an employee entitled to unemployment benefits?
It is therefore possible that the employer and employee may prematurely terminate a fixed-term employment contract by mutual consent, even if no interim termination clause has been agreed. How does the UWV act if the employee applies for unemployment benefits immediately after the early termination of the employment contract? Article 19 paragraph 4 WW then applies:
4. The employee is not entitled to benefits until the fixed-term employment contract has expired, if it has been terminated prematurely by mutual consent, without it being agreed in writing in the employment contract that it can be terminated prematurely as referred to in Article 667, third paragraph. , of Book 7 of the Civil Code.
Pursuant to this article, the UWV only grants unemployment benefits as of the end of the original fixed-term employment contract, if no written interim termination clause has been agreed. This provision is only a few years old and I could not find any other statements about it.
Amsterdam court thinks along with employee
Recently, the court in Amsterdam had to rule on such a situation. The employer and employee had concluded a termination agreement after the employee had been summarily dismissed and the employee had objected to this. The employment contract had been entered into for a definite period of time and no interim termination clause had originally been agreed. Oops, but the parties had been careful about this, so they had thought that they could include in the termination agreement that an interim termination clause was still agreed. The UWV did not agree to this. If that was allowed, article 19 paragraph 4 WW could be circumvented. It would be a sham.
The judge thought otherwise. The law does not state that an interim termination clause must be agreed upon at the start of the employment contract, nor that a certain period of time should elapse between agreeing such a clause and concluding the termination agreement. Employment contracts can be adjusted in the interim, which is the contractual freedom of the parties. The condition is, however, that the interim termination clause is agreed in writing, this was met. It was in the termination agreement. When the unemployment benefit was applied for, there was therefore an interim termination clause and the UWV could not refuse the benefit.
One swallow doesn't make a summer
I read many blogs from colleagues who, based on this one statement, state that this is a sure solution. I don't know yet. It concerns 'only' the Amsterdam District Court and the UWV can still appeal to the Central Appeals Board. That is certainly obvious and he might think otherwise. In addition, UWV could also invoke another article, namely article 24 paragraph 5 WW :
The employee is obliged to behave in such a way that his actions do not harm or could harm the General Unemployment Fund or the Government Implementation Fund. Disadvantage within the meaning of this article does not include conduct as referred to in article 25.
Perhaps the UWV will put this trump card on the table in another case. So be careful with this solution. There is still a certain risk in it!
Other solutions
In practice I sometimes see other solutions. The most far-reaching option is to draw up a new original agreement, with an interim termination clause. The question is whether that is allowed, but I see it coming more often. An alternative is to close an addendum. But how long should you wait after concluding a termination agreement? Enough questions that remain.
If you would like to know more about the dismissal of employees, please feel

free to contact

us.